About Girivalam: (14 km)
The circumambulation of Arunachala is known as Giri Pradakshina in Sanskrit and Giri Valam in Tamil. Performing pradakshina of Arunachala is considered to be beneficial in all ways. Typically, pradakshina is done in bare feet, with the Hill on the right. Sri Ramana Maharshi once explained the meaning of the word pradakshina and how it should be done by a devotee: "The letter "Pra" stands for removal of all kinds of sins; "da" stands for fulfilling the desires; "kshi" stands for freedom from future births; "na" stands for giving deliverance through jnana. If by way of Pradakshina you walk one step it gives happiness in this world, two steps, it gives happiness in heaven, three steps, it gives bliss of Satyaloka which can be attained. One should go round either in mouna (silence) or dhyana (meditation) or japa (repetition of Lord's name) or sankeertana (bhajan) and thereby think of God all the time.
Throughout the year, pilgrims engage in a practise called giri valam (circumambulation of Annamalaiyar temple and Annamalai hill 14 km in circumference), considered to be a simple and effective form of yoga. The circumambulation is started from the temple with barefoot and is considered a sacred act.The central government of India asked the Tamil Nadu government through the supreme court to direct the path of girivalam under the provision of the proposed Tamil Nadu Heritage Conservation Act. There are 8 small shrines of lingams located in the 14 km circumference of the hill, each one associated with the 12 moon signs. These are collectively termed as Ashtalingam (meaning 8 lingams) and is considered one of the rituals of worship during the girivalam (circumambulation of the hill).
8 Lingams Around Girivalam Path: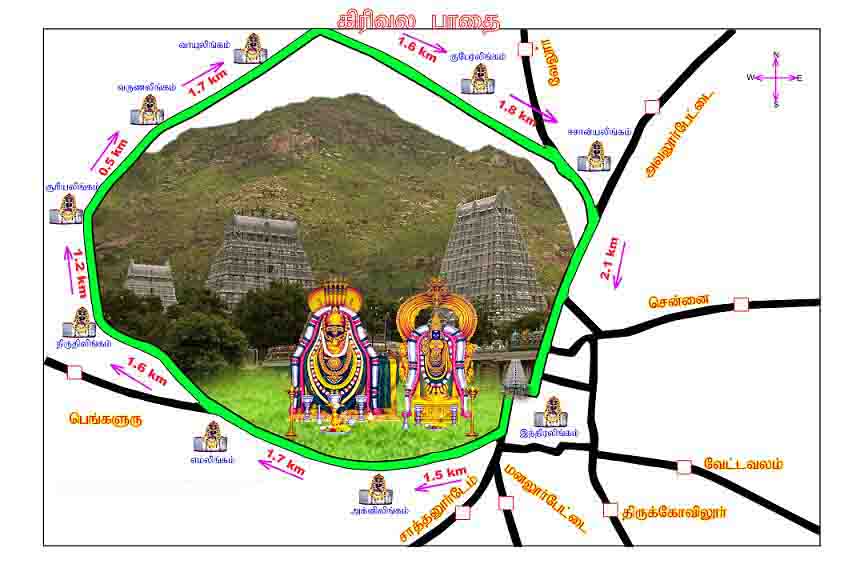 Girivalam Calendar – 2022
Girivalam Calendar - 2022

Girivalam Date
Day
Starting Time
Ending Time
January 17, 2022
Monday
03:18 AM, Jan 17
05:17 AM, Jan 18
February 16, 2022
Wednesday
09:42 PM, Feb 15
10:25 PM, Feb 16
March 17, 2022
Thursday
01:29 PM, Mar 17
12:47 PM, Mar 18
March 18, 2022
Friday
01:29 PM, Mar 17
12:47 PM, Mar 18
April 16, 2022
Saturday
02:25 AM, Apr 16
12:24 AM, Apr 17
May 15, 2022
Sunday
12:45 PM, May 15
09:43 AM, May 16
May 16, 2022
Monday
12:45 PM, May 15
09:43 AM, May 16
June 13, 2022
Monday
09:02 PM, Jun 13
05:21 PM, Jun 14
July 13, 2022
Wednesday
04:00 AM, Jul 13
12:06 AM, Jul 14
August 11, 2022
Thursday
10:38 AM, Aug 11
07:05 AM, Aug 12
August 12, 2022
Friday
10:38 AM, Aug 11
07:05 AM, Aug 12
September 10, 2022
Saturday
06:07 PM, Sep 09
03:28 PM, Sep 10
October 09, 2022
Sunday
03:41 AM, Oct 09
02:24 AM, Oct 10
November 08, 2022
Tuesday
04:15 PM, Nov 07
04:31 PM, Nov 08
December 07, 2022
Wednesday
08:01 AM, Dec 07
09:37 AM, Dec 08
December 08, 2022
Thursday
08:01 AM, Dec 07
09:37 AM, Dec 08
* Devotees undertaking Girivalam may be permitted as per the announcement released by the Tamil Nadu State Government and the district Collector.
* அரசு மற்றும் ஆட்சியரின் அறிவிப்புக்கு ஏற்ப கிரிவலம் செல்ல கிரிவலம் பக்தர்கள் அனுமதிக்கப்படுவார்கள்.
How to Make Girivalam
Everyone should walk around the hill barefoot.
Mutter the name "Om Arunachala".
view the peak of the Arunachala hill during the circumambulation.
It should be undertaken during night.
There are 8 lingams, 360 holy tanks, mandapas and ashrams. There are eight lingams around the Arunachala hill one in each direction.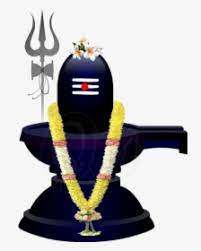 Indra Lingam : (East)
This is the first lingam while the hill circumambulation, worshipping this lingam yields healthy and wealthy life.
Agni Lingam : (South East)
This is the second lingam, It placed near The Lotus tank, This is the only lingam placed on right side of the circumambulation path, all other lingams are placed on left side, It occupies the South East direction, worshipping here retrieves us from all diseases and to face challenges of life.


Yema Lingam : (South)
This is the third lingam, and next to Agni lingam and 3 kM away from the Rajagopuram, and it occupies the South direction, it also has a holy tank called "Simma Theertha", it is believed that, worship of this solves economical problems.
Niruthi Lingam : (South West)
This is the fourth lingam, while we see the peak of the holy hill Arunachala, it views accompanying of two parts of mountain and shows 'Sivan' and 'Sakthi' together. It placed in south west of Arunachala. It also has a holy tank nearby, called "Sani Theertha", worshipping here relieves us from our difficulties.


Varuna Lingam : (West)
This temple placed West of the hill Arunachala, this is the fifth lingam. It is 8 kilometers away from the Rajagopuram. One of the holy tank called "Varuna theertha" is here. Workship of this temple retrieves from crucial diseases and promotes ones social status.
Vayu Lingam : (North West)
The whole world is made up of Earth, Water, Fire, Air and Sky. no living creature can survive without Air. While reaching this temple we feel the pleasantness of spring and get peace of mind. it is placed in Northwest direction. Worshipping here is of confers boon on ladies and children.


Kubera Lingam : (North)
This is the seventh lingam. Almost all of the devotees , who comes for circumambulation, worship here by soaring coins and currencies on this lingam. Worship of this lingam grants economical growth, and promotes peace of mind. It is placed in North direction.
Esanya Lingam : (North East)
This is the eighth and last lingam. Here gets peace of mind ability to concentrate mind on God works out his way to heaven.