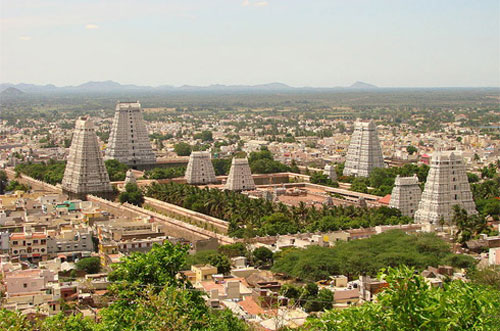 Thiruvannamalai is one of the most spiritual place in Tamil Nadu. The term "Annamalai" meant an divine and volcanic mountain. The word "Thiru" was prefixed to signify its greatness, and coupled with the two terms, it is called Thiruvannamalai.
Adi Annamalai Temple
Adi Annamalai Temple is located in Girivalam path . This is the sacred place where saint poet Manickavasagar wrote Thiruvempavai. As enjoined, one should enter the temple by the Main Gate in front of the Sanctumsanctorum. Before entering the Eastern Gate we see the Sixteen-Pillared Mandapam and the Four-Pillared Mandapam. When we pass the Eastern Tower Gate we see the Gopura Ganapathi. This deity is held in high esteem and veneration by all devotees and the first worship to Him. We first come to the fifth prakaram and see before us the Kambathilayanar Sannidhi and Gnanappai Mandapam. Here it was that God Muruga appeared in a Pillar for the sake of the King Prabudadevaraya as prayed for by saint Arunagirinathar in response to his famouns song "Athalasadanarada". To the south there is the sacred tank called Sivaganga Theertham. It has stonesteps and Thirumalapathi Mandapam on all four sides.
Population
Thiruvannamalai is the center place and branches out to several important cities (Chennai, Vellore, Villupuram, Trichy, Tirupati and Bangalore) and States (Andhra Pradesh and Karnataka). The district is divided into 10 Taluks – Chengam, Thiruvannamalai, Polur, Thandarampattu, Aarani,Vandavasi, kalasapakkam, kilpennathur, chetpet and Cheyyar. Aarani is famous for silk sarees.
Thiruvannamalai district has a population of 3,468,965, w.r.t the recent census taken in 2011
Thiruvannamalai district divided with sex ratio of 993 females for every 1000 males, and a literacy rate of 79.33%.
Tiruvannamalai municipality had a population of 1,45,00, w.r.t the recent census taken in 2011
The municipality divided with sex ratio of 1000 females per 1,000 males and 10.0% of the population were under six years old. Effective literacy was 81.64%; male literacy was 85.60% and female literacy was 77.70%.
| Religion | Population | Literacy Rate | Sex Ratio |
| --- | --- | --- | --- |
| Hindus | 33,16,962 (92.76%) | 91.88% | 997 |
| Jains | 1,50,771 (3.09%) | 76.88% | 996 |
| Christians | 1,02,477 (2.95%) | 78.60%; | 1070 |
| Muslims & Others | 77,107 (1.02%) | 71.23% | 823 |
Taluks List
| S.No | Taluk | Headquarters | Area | Population (2011) | Population density |
| --- | --- | --- | --- | --- | --- |
| 1 | Polur | Polur | 819 km | 496,481 | 606 /km |
| 2 | Thiruvannamalai-Urban | Thiruvannamalai | 102 km | 285,087 | 2,795 /km |
| 3 | Thiruvannamalai-suburban | kizh-Pennathur | 622 km | 387,578 | 623 /km |
| 4 | Thiruvannamalai-Rural | Thandarampattu | 691 km | 390,880 | 566 /km |
| 5 | Arani | Arani | 527 km | 299,900 | 569 /km |
| 6 | Cheyyar | tiruvethipuram | 634 km | 350,367 | 553 /km |
| 7 | Kalasapakkam | kalasapakkam | 532 km | 292,013 | 549 /km |
| 8 | Javadhu hills | Jamunamarathur | 645 km | 178,897 | 277 /km |
| 9 | Vandavasi | Vandavasi | 645 km | 381,174 | 591 /km |
| 10 | Chengam | chengam | 682 km | 396,588 | 582 /km |